Czas zaktualizować przeglądarkę do naszej nowej wersji, zarówno na komputery stacjonarne, jak i na Androida. Vivaldi 4.2 zawitał.
Wersja komputerowa umożliwia teraz tłumaczenie zaznaczonego tekstu na stronie internetowej za pomocą naszego wbudowanego narzędzia Tłumacz Vivaldi, obsługiwanego przez Lingvanex i hostowanego na naszych własnych serwerach.
Możesz także szybko uzyskiwać dostęp do informacji i udostępniać je za pomocą naszego wbudowanego generatora kodów QR, szybkich poleceń, gestów myszy i skrótów klawiszowych.
Poprawiliśmy przeglądarkę, wprowadzając ulepszenia we wszystkich obszarach, w tym w panelach internetowych. Dodaliśmy również Neeva dla naszych przyjaciół w Stanach Zjednoczonych, nową, przyjazną dla prywatności i wolną od reklam wyszukiwarkę zarówno na komputery stacjonarne, jak i Androida, dającą więcej opcji, które nie śledzą i nie zbierają danych.

https://vivaldi.com/pl/download/

Tłumacz tekst na stronie internetowej prywatnie, bez "ciekawskich oczu"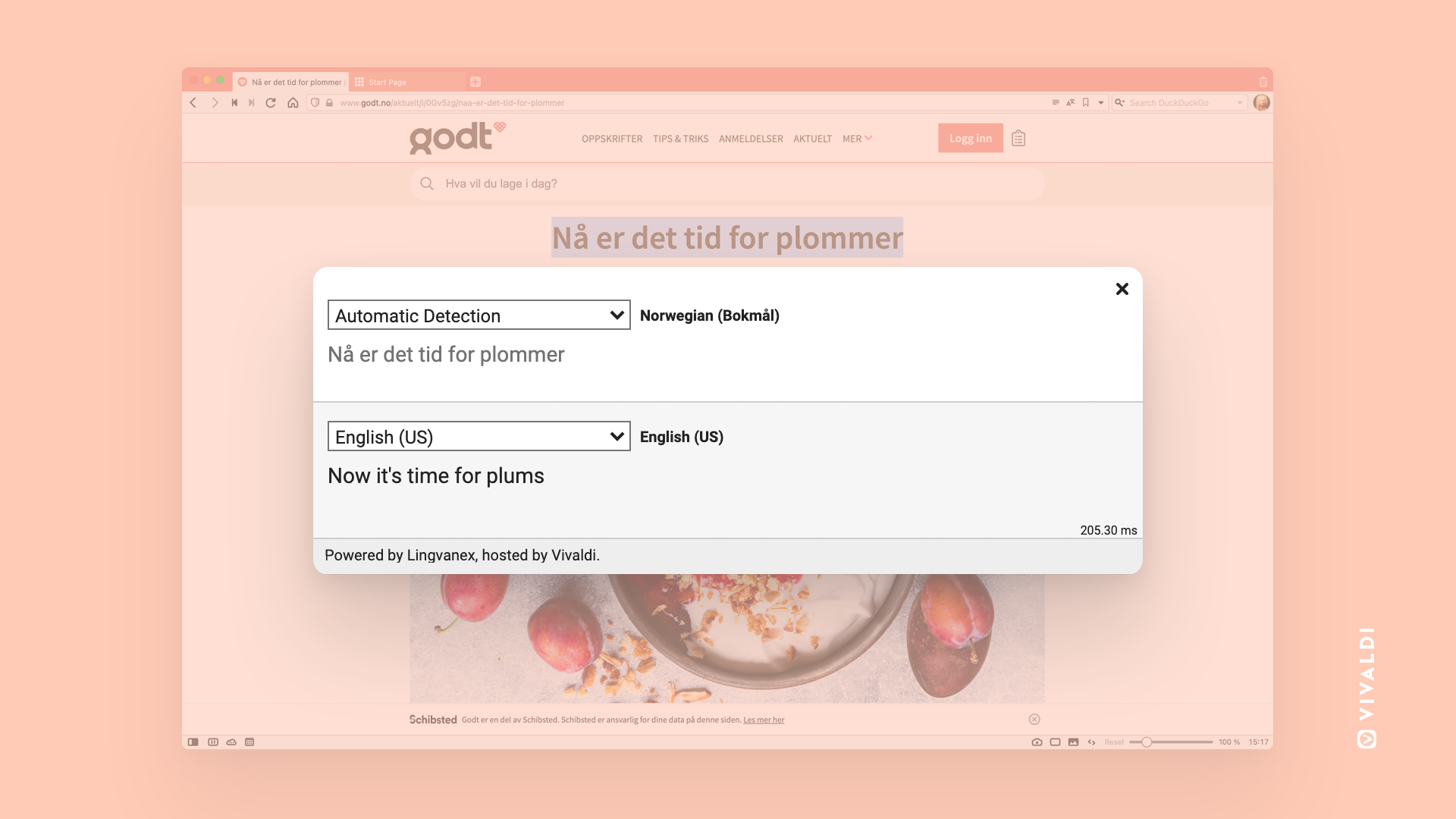 Wiesz, że możesz na nas liczyć w zakresie ochrony Twojej prywatności.
Dlatego wprowadziliśmy naszą własną, prywatną funkcję tłumaczenia bezpośrednio w przeglądarce – niezawodne i godne zaufania rozwiązanie. Jedynymi zaangażowanymi serwerami są serwery Vivaldi, co oznacza, że ​​możesz tłumaczyć z pewnością, że Giganci Technologiczni tego nie zobaczą.
Tłumacz Vivaldi, wspierany przez naszych przyjaciół z Lingvanex , został zaprojektowany, by umożliwić Ci pokonanie barier językowych. Naszym celem jest dalsze rozwijanie i ulepszanie tej funkcji, abyś mógł być mniej zależny od narzędzi oferowanych przez wielkie korporacje. Tłumacz Vivaldi umożliwia już tłumaczenie stron w preferowanych językach – bezpiecznie.
W tej aktualizacji dodaliśmy więcej do tej funkcji, która jest unikalna dla Vivaldii nie wymaga użycia żadnego rozszerzenia.
Teraz możesz wybrać dowolny tekst na odwiedzanej stronie internetowej, a także mieć możliwość przeglądania zarówno oryginalnych tekstów, jak i wyboru języka do tłumaczenia – wszystko w tym samym czasie.
Po prostu zaznacz tekst na stronie internetowej, kliknij prawym przyciskiem myszy zaznaczenie i wybierz z menu opcję Przetłumacz zaznaczony tekst.
Na stronie znajdziesz nakładkę wyświetlającą zaznaczenie w wykrytym języku, które można przetłumaczyć na język systemu. W odpowiedzi na opinie użytkowników – możesz również tłumaczyć na inne języki – a nawet z innych języków, jeśli automatyczne wykrywanie napotka problem.
Vivaldi to przeglądarka taka, jaką potrzebujesz. Jeśli lubisz pracować ze skrótami klawiszowymi, możesz nawet zmapować tę funkcję. Skróty klawiaturowe w Vivaldi można dostosować i używać do sterowania prawie każdym aspektem przeglądarki.
Aby utworzyć skrót klawiaturowy do tłumaczenia zaznaczonego tekstu, przejdź do Menu Vivaldi > Narzędzia > Ustawienia, przejdź do menu Klawiatura, otwórz sekcję Strona i przewiń w dół do pola "Przetłumacz zaznaczony tekst". Aktywuj pole i dodaj do niego żądaną kombinację klawiszy.
Udostępniaj informacje jeszcze szybciej dzięki kodom QR w Vivaldi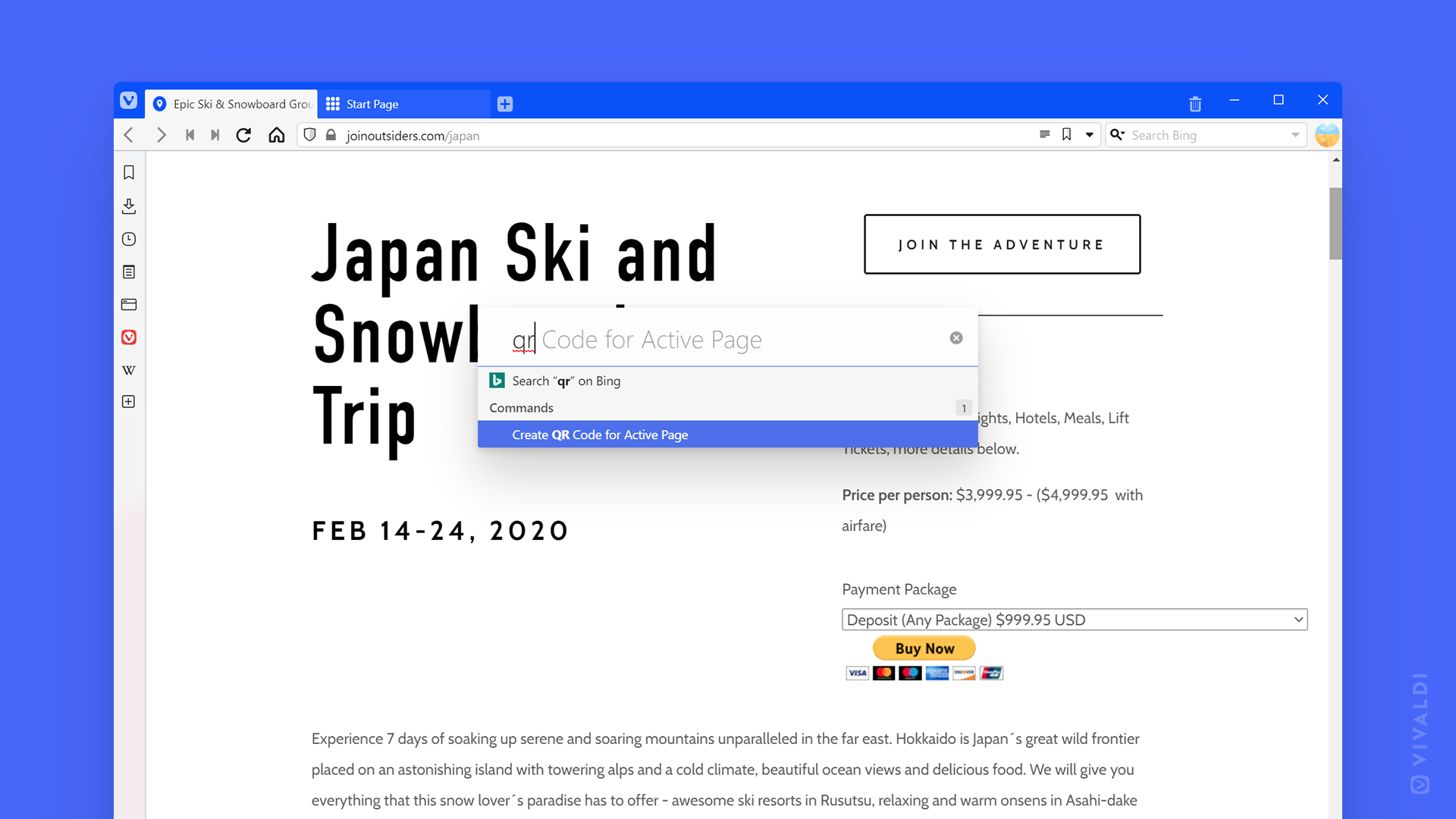 Popularność kodów QR (quick response) gwałtownie wzrosła, ze względu na pandemię i początkiem świata bezdotykowego. Ponieważ kody QR to świetny sposób na dzielenie się informacjami, mamy wbudowany generator QR w naszej wersji komputerowej Vivaldi, który pozwala łatwo udostępniać adresy URL innym urządzeniom.
Przeglądanie polega na jak najszybszym przechodzeniu z jednego miejsca do drugiego. Aby przyspieszyć przeglądanie, kody QR działają teraz jeszcze szybciej w Vivaldi na komputerze.
Jeszcze bardziej ulepszyliśmy tę funkcjonalność. Możesz teraz wyświetlić kod QR, który umożliwia szybkie udostępnianie strony na innym urządzeniu za pomocą szybkich poleceń, skrótów klawiaturowych lub gestów myszy.
Jeśli chcesz mieć poręczny przycisk QR w polu adresu, możesz włączyć tę funkcję w Opcjach pola adresu w Ustawieniach.
Vivaldi oferuje też skaner kodów QR w naszej przeglądarce na Androida.
Więcej i więcej lepszych wrażeń przeglądania
W Vivaldi zawsze jest miejsce na więcej funkcji i opcji. A mamy ich więcej!
Przyciski paneli internetowych Vivaldi można teraz przewijać. Możesz także rozszerzyć liczbę paneli internetowych.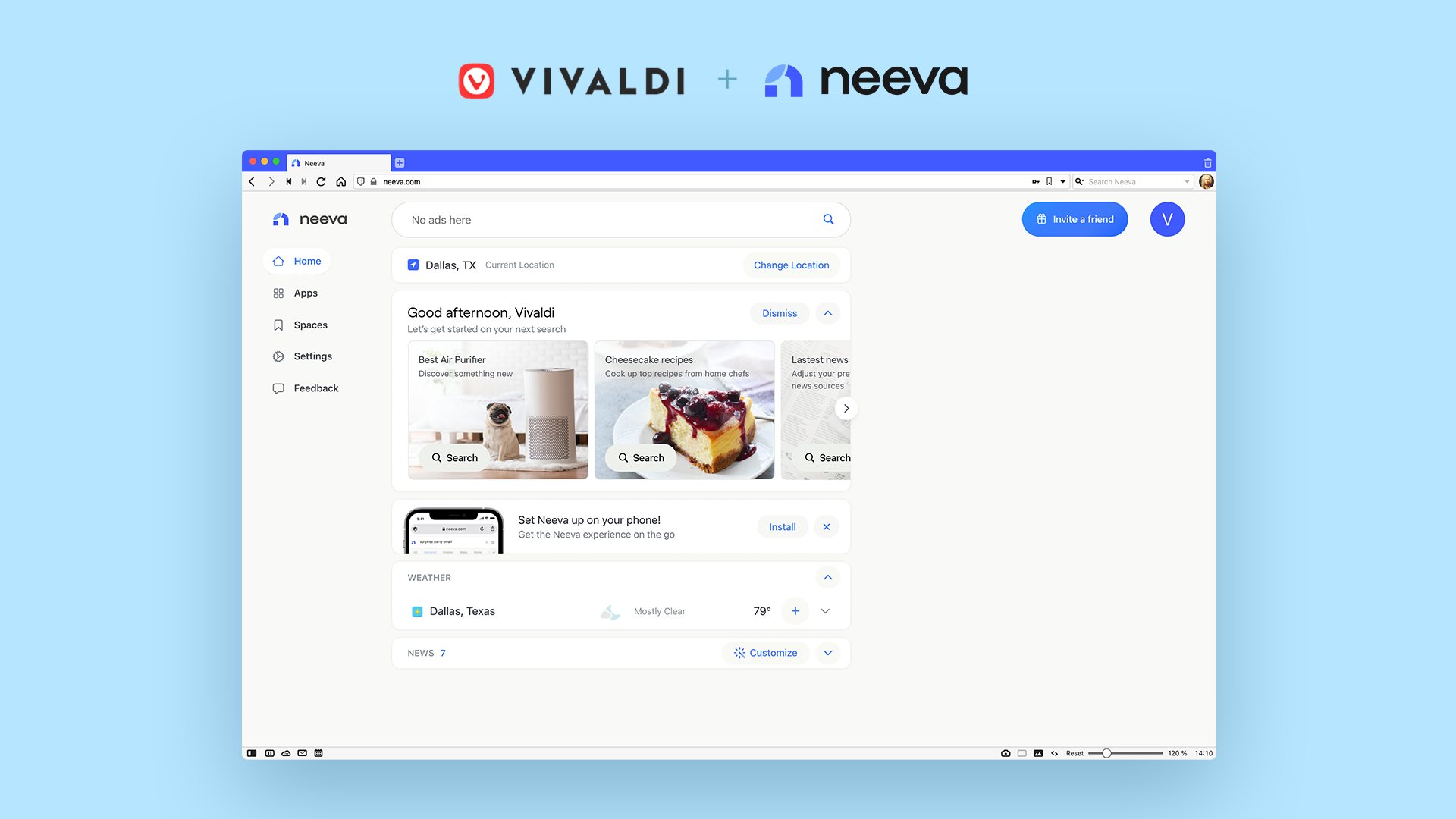 Wraz ze wzrostem zapotrzebowania na wyszukiwarki przyjazne prywatności, dostępne są nowe opcje. Do naszej listy przyjaznych prywatności wyszukiwarek na komputerach i Androidzie dodaliśmy zupełnie nową opcję wyszukiwania – Neeva. Po początkowym ograniczonym wdrożeniu, począwszy od tej wersji, użytkownicy w USA mogą korzystać z wyszukiwania Neeva bez reklam. Czytaj więcej.
Aktualizacja ma swoje zalety. Zainstaluj Vivaldi 4.2!
Jak zawsze, każda aktualizacja ma coś do zaoferowania. W przypadku Vivaldi 4.2 skupiliśmy się na poprawkach i szlifowaniu niektórych zakątków.
Z każdym wydaniem Vivaldi powinien działać dla Ciebie lepiej niż wcześniej. Daj nam znać, jak ta aktualizacja działa dla Ciebie, dzieląc się swoją opinią, jak zawsze. Gotowy na surfowanie z Vivaldi 4.2? Pobierz go teraz na systemy Windows, Mac, Linux i Android.

https://vivaldi.com/pl/download/
Komputer – Lista zmian w Vivaldi od 4.1 do 4.2
[New][Translate] Selected text on web pages (VB-80726)
[New][QR][Commands][Keyboard][Gestures] Add an option to create QR codes more easily (VB-82045)
[New][Panels] Offer a scrollbar so that more web panels are possible (VB-35633)
[New][Search] Add Neeva search engine for American English users (VB-82474)
[New][Bookmarks] Create a special favicon for bookmarklets with protocol javascript: (VB-20247)
[New][Commands][Keyboard][Gestures] Add command for "Go to Parent Directory" (VB-82462)
[New][Commands][Keyboard][Gestures] Add command for "Minimize All" (VB-82478)
[New][Menus] Add menu option to open link in a specific browser window (VB-78071)
[Address Bar] Collapses when opening nested popup (VB-80030)
[Address bar][QR] Scanning icon is blurry (VB-82442)
[Bookmarks] Make all bookmarklet icons look the same (VB-82589)
[Bookmarks] Open a bookmark folder opens tabs with separator's URLs (VB-82038)
[Bookmarks] Wrong sort order on the bookmark bar (VB-82084)
[Calendar Beta] Add calendar button in the status bar (VB-57571)
[Calendar Beta] CalDAV invalid sync token or out of sync (VB-82591)
[Calendar Beta] Changing colors and names for Web Calendars doesn't work (VB-81872)
[Calendar Beta] Comma in the title is escaped with backslash (VB-76073)
[Calendar Beta] Import iCal file into CalDAV calendar does not upload events to the server (VB-80968)
[Calendar Beta] Incorrect jumping of days when moving down in month view (VB-65345)
[Calendar Beta] Keyboard navigation breaks for the long events (VB-79067)
[Calendar Beta] Notification dismisses a currently shown one (VB-82176)
[Calendar Beta] Open during onboarding opens a duplicate tab (VB-82248)
[Calendar Beta] Recurring task created with incorrect duration (VB-82032)
[Calendar Beta] Setting up CalDAV iCloud account hangs (VB-82615)
[Calendar Beta] Wrong color for – and + buttons in Popup editor (VB-82223)
[Chains] Periodic Reload only works at 60 seconds (VB-81363)
[Chains][Settings] Does not appear in Quick Actions, unless "Bookmarks" is checked in 'Quick Commands > Search Types and Priority' (VB-81869)
[Chains][Settings] Use Label as Tooltip (VB-81559)
[Chromium] Upgraded to 93.0.4577.83
[Contacts Beta] Quickly deleting many recipients from composer freezes browser (VB-82385)
[Crash] On inserting a note in a form on a Guest Window (VB-82621)
[Crash] When opening links from private window popup (VB-82142)
[Crash] When wheel-clicking quoted tweets (VB-77203)
[Developer Tools] Can not inspect iframe (VB-82239)
[Extensions] Clicking extension action buttons in popup fails (VB-82560)
[Extensions] browser action popup window confirm does not work (VB-28498)
[Extensions] chrome.extension.getViews({ type: 'popup' }) is suppose to return an empty array if the popup window is not open (VB-81714)
[Fullscreen] F11 does not work on second screen (VB-64437)
[Fullscreen] Statusbar not hidden in fullscreen although disabled in settings (VB-70712)
[Fullscreen] Still in Video fullscreen on second screen if focused away (VB-64433)
[Fullscreen] Tab bar, the address bar, and status bar not visible if Vivaldi is restarted full screen (VB-76024)
[Fullscreen][Panels] Reopening in fullscreen hides / shows the panel (VB-50996)
[macOS] Can't paste URL into the new tab address bar with the mouse (VB-61371)
[macOS] Ignore temporary connectivity issues for upgrade notification (VB-82264)
[macOS] No menu or settings entry to disable spell checking (VB-22298)
[macOS] "Quit Vivaldi" appears twice in Command Chains (VB-80314)
[macOS][Menus] Paste & Match Style command is missing (VB-81223)
[Mail Beta] Add option for Mail search using enter key rather than onKeyDown (VB-82160)
[Mail Beta] Allow importing from another source without closing the dialog (VB-82426)
[Mail Beta] Compose buttons should not be placed beside the history buttons (VB-82341)
[Mail Beta] Enabling accounts after import fails (VB-80613)
[Mail Beta] Import from M2 with no username makes invalid accounts (VB-82399)
[Mail Beta] Needs to be smarter at handling brackets in URLs (VB-48850)
[Mail Beta] No mail selected when clicking the folder in mail panel (VB-36349)
[Mail Beta] Not reconnecting to IMAP server after hibernation (VB-82395)
[Mail Beta] Render colored icons in mail flag menus (VB-82226)
[Mail Beta] Reset search when filter text is cleared (VB-82267)
[Mail Beta] Saved filters fail to filter from: and to: correctly (VB-82676)
[Mail Beta] Saved searches return all messages when there is no match (VB-82678)
[Mail Beta] Scheduled theme causes open mail item to reload, losing scroll position (VB-69313)
[Mail Beta] Search for to, cc, bcc does not work when prefetch is turned on (VB-82420)
[Mail Beta] Searching for emails fails when no space between from: to: or cc: and email (VB-82677)
[Mail Beta] Status bar mail popup list emails are not being marked as read (VB-78551)
[Mail Beta] The count of new unread messages shows unread +1 (VB-80782)
[Menus] %s in the context menu with certain languages applied (VB-81553)
[Menus] Capitalization wrong in the main menu (VB-81712)
[Menus] Incorrect shortcut rendering in Menu Settings (VB-81492)
[Menus] Menu is visible in fullscreen mode (VB-81692)
[Menus] Wrong underlining of numbered menu items (VB-82257)
[Notes][Panels] Edit area remembers where expansion ended even when the expansion was over the limit (VB-64703)
[Reader] View icon visible on Start Page (VB-71136)
[Search] Update DuckDuckGo search favicon (VB-82131)
[Settings] Rename 'home' to 'homepage' under 'Keyboard > Page' (VB-81710)
[Settings] "Minimize All" does not work on all windows (VB-82486)
[Settings][Bookmarks] Default Bookmark Bar cannot be changed (VB-81911)
[Speed Dial] Horizontal Speed Dial page transition is broken (VB-82149)
[Tabs] Can't close the tab when "Align Next Close Button" disabled (VB-82222)
[Tabs] Incorrect inactive tab background with Accordion Tab Stacking on and Transparent Tab Bar on (VB-81579)
[Tabs] Opening and closing tabs slow with many tabs: work in progress (VB-80215)
[Tabs] Popup is reloaded when a tab is reloaded (VB-81908)
[Tabs] Popup title is set on all windows (VB-82553)
[Tabs] Show popup thumbnail doesn't update anymore (VB-82036)
[Tabs] Tab Stack thumbnail preview doesn't scroll in vertical Tab Bar (VB-76769)
[Tabs] Vertical tabs have a selection width limit (VB-81938)
[Tabs] With changing the title is hard to Drag'n'Drop (VB-81437)
[Tabs] "Remove from Tab Stack" unstacks the entire stack instead of just removing an active tab from the stack (VB-82079)
[Tabs][Panels][Keyboard] New tab (Ctrl+T) creates two tabs when Windows Panel is visible and Tab Bar is hidden (VB-81887)
[Themes] Add Issuna theme for Manjaro (VB-82738)
[Themes] Context menu icons should be rendered white in dark OS theme (VB-82253)
[Translate] Batch up more strings before sending for translation by throttling scroll events (VB-82489)
[Updates] Profile selection window on startup interferes with auto-update (VB-82027)
[User Profiles][Panels] Don't add default Web Panels to Guest Window (VB-78253)
[Windows][Linux] Vertical Tab Bar scrollbar width should follow the setting (VB-82266)
[Zoom] Session restored tab fails to update page zoom correctly (VB-82512)
Android – Lista zmian w Vivaldi od 4.1 do 4.2
[Full screen] Always hide navigation bar in full screen VAB-4431
[Search Engine] Add Neeva search engine to us-en setting VAB-4544
[Settings] Show current state of setting in summary VAB-3761
[Status bar] Handle status bar visibility changes VAB-4476
[Tab stack] Can't create 2nd tab stack VAB-4379
[Tab stack] Reopened tabs not immediately visible in a stack VAB-4395
[Translate][Crash] When translating certain websites VB-81187
[UI] Tab switcher context menu overlaps tab switcher button VAB-3823
Upgraded Chromium to 93.0.4577.83