Znaczne ulepszenia w menu Vivaldi, globalne ustawienia domyślnych uprawnień stron, poprawa wydajności i wiele więcej – wszystko to w najnowszej wersji Vivaldi na komputery. 

Przejmij kontrolę z Vivaldi 
Dziś uaktualniamy naszą przeglądarkę na komputery – Vivaldi 2.9
Co jest w menu?
Są różne sposoby na uzyskanie dostępu do różnych funkcji przeglądarki Vivaldi, takich jak skróty klawiszowe, gesty myszy i szybkie polecenia. Menu Vivaldi jest jednym z nich. 
Jeśli korzystasz z systemu Windows lub Linux, możesz ustawić menu Vivaldi tak, jak chcesz – jako przycisk Vivaldi w lewym górnym rogu albo jako poziomy pasek w górnej części okna. Możesz nawet wybrać styl ikony menu. Sprawdź to w Ustawienia > Wygląd > Menu.
W tej nowej wersji troszkę zmieniliśmy menu Vivaldi, jeszcze bardziej je ulepszając. Teraz ma więcej opcji i pozwala szybciej uzyskać dostęp do preferowanych funkcji.

Wielu użytkowników woli korzystać z paska menu, żeby uzyskać dostęp do ważnych funkcji. W tym wydaniu znacznie poprawiliśmy nawigację klawiaturą i myszą po menu.
Oto nowe elementy, które zostały dodane do menu Vivaldi: 
Panele www: Menu > Widok
Niestandardowe panele w górnym menu. Oznacza to łatwy dostęp do stron dodanych w bocznym pasku paneli – komunikatorów, wiadomości czy słowników.
Pokazuj pasek kart: Menu > Widok
Jedno kliknięcie i pasek kart jest albo go nie ma, a Ty masz więcej wolnej przestrzeni przeglądania.
Zakładki: 
Od teraz wywołanie menu kontekstowego jest możliwe po kliknięciu prawym przyciskiem myszy na konkretną zakładkę.
Zgłoś błąd: Menu > Pomoc
Otworzy stronę służącą do zgłaszania problemów.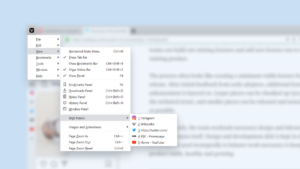 Ustaw globalne uprawnienia domyślne stron
Powiadomienia pojawiające się na ekranie z różnych witryn czasami (albo prawie zawsze) są inwazyjne i niepożądane. Oczywiście zawsze możesz odrzucać je jedno za drugim bądź dostosować uprawnienia dla poszczególnych stron.
Ale my chcieliśmy pójść nieco dalej i dać ci sposób na ukrócenie tych irytujących przeszkód. Teraz możesz globalnie ustawić domyślne uprawnienia stron dla: Dźwięku, Powiadomień, Geolokalizacji, Kamery, Mikrofonu, Czujników ruchu, Urządzeń Bluetooth, Urządzeń MIDI, Wyskakujących okien.

Globalną kontrolę nad tym znajdziesz w Ustawienia > Strony internetowe > Uprawnienia domyślne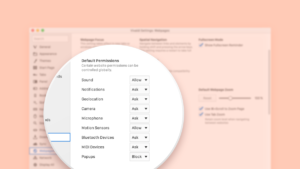 Więcej dobrego w Vivaldi 2.9 
Usprawnione odtwarzanie wideo dla systemu macOS
Znaczny postęp w naprawianiu niektórych problemów z wideo HTML5, które powodowały, że filmy nie byłyby odtwarzane na starszych komputerach.
Lepsza wydajność
Nasze ciągłe prace nad poprawą ogólnej wydajności obejmują aktualizację niektórych składników. Otwieranie i zamykanie kart jest znacznie szybsze.
Udogodnienia dla użytkowników z Chin, Japonii i Korei
Mamy sporo uwielbienia z Japonii, która od samego początku jest naszym największym krajem pod względem użytkowników przeglądarki. W tej wersji rozwiązaliśmy niektóre ciężkie problemy z edytorem IME (Edytor Metody Wprowadzania Znaków) na pasku adresu. Teraz możesz bez problemu przeglądać rozwijane menu i nawet dwukrotnie wpisać koreańską literę w polu adresu.
Szczegółowa lista zmian:
Nowość
[Bookmarks] Add tree columns reordering support to the manager (VB-2238)

[Cookies] Page prevented from using cookies dialogue (VB-22928)

[Menus] Add a link to the bug report wizard from help menu (VB-12835)

[Menus] Add web panels to View menu (VB-50286)

[Menus] Alt + 'letter with a diacritics' does not open items (VB-12688)

[Menus] Let F10 and Alt toggle focus (VB-58586)

[Menus] Show Tab bar in View menu (VB-33425)

[Menus][Accessibility] Make available letters for menu accelerators case sensitive (VB-58985)

[Menus][Bookmarks] Edit/Add Bookmark/Add Folder missing from bookmark context menu (VB-50909)

[Menus][Bookmarks] Empty directory missing "Add Active Tab" menu item (VB-58682)

[Menus][Keyboard] Add F10 support (Focus Main Menu) for Vivaldi menu (VB-57596)

[Menus][Themes] Move background image from tab bar to window so that it also includes the horizontal menu (VB-37886)

[New][Settings] Options to globally block site permissions: "Menu → Tools → Settings → Webpages → Global Permissions" (VB-58931)
Pasek adresu
Searching with another search engine than default has wrong favicons in drop down (VB-58450)

[Regression] Search string becomes incomplete if it matches a bookmark nickname (VB-58642)

[Regression] The URL field in new tab clears if the tab is switched (VB-57553)

Autocomplete doesn't match on history item titles (VB-57769)

[IME] Cannot go through dropdown suggestions after confirming input (VB-57896)

[IME] It is impossible to use same Korean letter in address bar (VB-58049)

[Regression] Autocomplete from bookmark nickname can write nickname itself (VB-57483)

[Regression] Clicking address field makes selected URL disappear (VB-57486)

[Search] Dialogue doesn't close if you click the choose search engine button (VB-52599)

[Search] site: search restriction (VB-57702)

[macOS][Linux][Regression] Path to local directory treated as search query (VB-57353)
Zakładki
[Panels][Crash][Regression] Bookmark panel crash (VB-58221)

[Regression] Can't create bookmark with Enter (VB-55841)

[Regression] Editor is not updated after deleting bookmarks from trash (VB-56360)

[Regression] Folders are not sorted separately in menu (VB-57652)
Narzędzia deweloperskie
[Regression] Ctrl+R reloads webpage and closes Developer Tools (VB-56590)

Pressing Esc may affect ajax requests (VB-58166)

[macOS] Crash when undocking (or opening undocked) (VB-48293)
Rozszerzenia
Can't query selected tabs with chrome.tabs.query webextension API like in Firefox and Chrome (VB-56501)

Tab status is not correct for when loading as pending content (VB-44228)

Volume Master extension does not work (VB-38661)
Linux
A warning is displayed on install via zypper/OpenSUSE

Make proprietary media (H.264/AAC) support more reliable (VB-59143)

Vivaldi does not offer to make itself the default browser (VB-56921)
macOS
Vivaldi becomes UI-less after opening a tab in fullscreen (VB-58176)

Proprietary media playback broken on older Macs (VB-55187)

Unreachable controls in fullscreen popup window (VB-44439)

Vivaldi has two "Quit Vivaldi" commands (VB-57532)
Menu
Clicking the Vivaldi menu two times does not close the menu (VB-23779)

Double-clicking anywhere in horizontal menu bar toggles window maximized (VB-57570)

Horizontal – with a too long list, items to the right cannot be selected (VB-57293)

[Linux] Alt opens menu, but will not close it (VB-39080)

Prevent menu from obscuring status bar button (VB-58631)

Show Tab bar in View menu (VB-33425)

Wrong shortcuts displayed on view menu (VB-54907)

[Accessibility] Make available letters for menu accelerators case sensitive (VB-58985)

[Gestures][macOS] Add "Focus Main Menu" command (VB-57550)

[Keyboard] Add F10 support (Focus Main Menu) for Vivaldi menu (VB-57596)

[Regression] Two menubar buttons can be selected (VB-59193)

[Themes] Move background image from tab bar to window so that it also includes the horizontal menu (VB-37886)
Notatki
[Panels] Auto-close causes attachment not to complete successfully (VB-58364)

[Sync] Set the proper creation time (VB-57496)
Panele
Resizing Bookmarks Panel editor flashes (VB-58540)

Does not hide on touch (VB-58517)

Hidden sorting icon in narrow view (VB-46527)

Sidebar should also be floating along with the panel (VB-42338)

[Regression] Previously typed web panel gets added when you try to add a new one (VB-57499)

[macOS] Fullscreen toolbars covered by floating panel (VB-59173)
Szybkie polecenia
Calculator can copy inexact number (infinite decimal) to clipboard (VB-57487)

Make 'Create Note' respect settings (VB-57734)
Szybkie wybieranie
Cannot cut and paste folders and entries on the start page (VB-53749)

No more alpha on icons (VB-57890)

Preserve thumbnail ratio (VB-57990)

Search button missing from search field (VB-57646)

[Regression] Search field opens dropdown in wrong direction (VB-58752)
Pozostałe
[Crash] Browser crashes when closing certain websites (VB-54874)

[Performance] Various performance improvements, including a limit on overflow tab animation (VB-52682)

[Profile Manager] Deleting profile makes Vivaldi unstable (VB-57771)

[Sync] Typed whitespace around the username should be trimmed to avoid login issues (VB-58328)

[Sync][Crash] Vivaldi crashes when trying to authenticate (VB-55979)

[Tabs][Regression] Thumbnail does not display in some cases (VB-58069)

[Themes][Regression] Editor colors don't update when selecting another theme (VB-49541)

[Themes][Regression] Low contrast in dialogs and settings for some themes (VB-57686)

[Windows] Razer Chroma popup and Default browser popup overlap (VB-56898)

[Reader] Line breaks in children of pre elements are ignored (VB-38035)

[Regression] Find-in-page affects new pages too (VB-57748)

[Regression] PDF viewer is empty when opened in new or background tab (VB-51691)

[Search] Using a search engine with no Suggest URL, Vivaldi will show other engines last history (VB-54949)

[Windows][Linux] Disabled shortcuts are shown in menu (VB-50948)

[Windows][Linux] Icons in dark menus are invisible (VB-59064)

"Add search engine" dialog disappears after mouse-selecting default name (VB-56290)

Background click shouldn't close JavaScript dialog (VB-57980)

Page Flash with multiple tabs (VB-33286)

Scaled displays does not work with "Styled find in page" (VB-54590)

Sensors permission popup needs improvement (VB-50904)

Tab drag image is scaled by device screen resolution (VB-58597)

Upgraded Chromium to 78.0.3904.72
Twoja przeglądarka ma znaczenie

 🙂